We're Getting Mutants in the MCU - The Loop
Play Sound


"When you think of me, I hope it turns your plumbobs green."



Kelsey Lauren Impicciche (born July 11, 1991) is an American actress, Twitch Partner, and YouTuber who hosted the BuzzFeed Multiplayer The Sims 4 let's plays, most commonly known for her 100 Baby Challenge LP and collaborations with EA on projects such as the 100 Bae Challenge and EA Game Changers.
Biography
[
]
Early life
[
]
Kelsey Impicciche was born on July 11, 1991 in Indianapolis, Indiana. Her father, Joseph Impicciche, is a lawyer while her mother, Tamsen Impicciche, is a registered nurse. She has one older sister, Andrea, and a older brother named Christopher.
She attended the Visitation Academy, a Catholic school in St. Louis, Missouri from 2003–2010. In 2012, she moved to Los Angeles, California where she went to Loyola Marymount University and graduated with a bachelor's degree in Theatre, before starting her acting career in 2014.
In January 2016, Impicciche began working for BuzzFeed as a video producer and got a Goldendoodle named Chewie. According to her, being a BuzzFeed producer means she is involved in everything from pitching the concept of a video, to pre-production, to filming and editing.
Career
[
]
2017–2018: Twitch, In Control With Kelsey, and BuzzFeed Multiplayer

[

]
In August 2017, she started hosting a new BuzzFeed show, In Control With Kelsey, a let's play where she assists her friends control their lives in The Sims 4. In January 2018, Impicciche began her career as a Twitch streamer. In October 2018, along with Zach Cieszynski and Ify Nwadiwe, Kelsey announced the rebranding of BuzzFeedBlue to BuzzFeed Multiplayer, in which the channel began featuring more content about gaming, cosplay, and IRL challenges.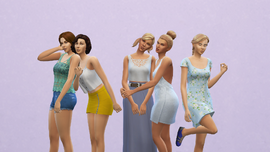 After wrapping up the third season of In Control With Kelsey, in December 2018, Impicciche released a video titled, Single Girl Tries the 100 Baby Challenge in The Sims 4, where she tried to make a knock-off version of herself get impregnated 100 times in The Sims while trying to raise 100 children. The video went no. 1 trending on YouTube, as well as the episodes that followed and created a huge demand for fans, who requested for more episodes in a week. On February 5, 2019, Impicciche released an announcement about the show's first spin-off, Remodels Her Children's Home, as well as a statement on Twitter saying she and her team can only do one episode at a time. Since then, from Raises a Teen, show started to become regular on BuzzFeed Multiplayer every Saturday at 11:00 AM EST.
In March 2019, Impicciche received YouTube's The Silver Creator Award for surpassing 100,000 subscribers. In July 2019, she hosted the 2019 VidCon for BuzzFeed. After producing and hosting the hit show for one year straight, she decided to conclude the first season and take a break.
2020: The Sims Spark'd and continuing the baby challenge

[

]
According to Impicciche in a February 2020 interview by TheGamer about the series, she was anxious at the start because she was never the main character of any BuzzFeed video, as she would usually be with other people. Furthermore, she talked about one of the most surprising things for her about the series:[3]

The fandom. I love fandoms; I'm a very passionate nerd, and I'm a part of a ton of fandoms. It's interesting to me in thinking about fandoms on YouTube, because it's kind of difficult. It was so cool because I accidentally cultivated a fandom. Certain things that I just did out of necessity meant to a lot to people. Like the garden salads - like that didn't mean anything to me, it was just the cheapest [meal option] that would keep my character healthy. Because in The Sims, characters tend to gain weight, especially when you're getting pregnant that often. And I knew that, so I thought, "I'll just feed [Chelsea] a garden salad so the food doesn't [add] to that." And that's why I did that. And everyone just thought I was weirdly obsessed with them. It was all part of logical thinking, but I didn't explain it. There's a lot of things [that fans have latched onto] - like I have yellow chairs in my home. It's interesting how so many little things that I didn't even put that much effort or thought into really struck people and made people fall in love with [the series]. It was really gratifying to watch it unfold and see all the inside jokes.
In July 2020, she became a judge in a The Sims reality television show The Sims Spark'd, where players compete in creating stories in The Sims 4 for $100,000. On November 19, 2020, Impicciche won Streamer Raised Charity Funds at The GameHERS awards.
Kelsey finished filming the 100 Baby Challenge LP in January 2021. The series wrapped up on March 27, 2021. On the same day, Kelsey dropped the video Why I Left BuzzFeed, where she announced the start of her journey as an independent creator. The following week, on April 3, 2021, she released the first episode of the Not So Berry Challenge LP, a series that features her take on the Not So Berry Challenge, a legacy challenge in The Sims 4 created by Sims YouTuber lilsimsie. According to Kelsey on Twitch, the let's play was inspired by the Not So Berry Challenge LP of Sims YouTuber Clare Siobhan. On April 7, 2021, Kelsey surpassed 600,000 subscribers on YouTube.
Twitch
[
]
According to TwitchMetrics, Kelsey Impicciche joined Twitch in March 2017.[4] She started regularly streaming, however, in January 2018. Kelsey has 128,622 followers as of June 7, 2022, 10:17 PM EST.
Schedule
[
]
The following lists Kelsey's tentative stream schedule:
Tuesdays, 7:00 PM EST
Thursdays, 7:00 PM EST
Sundays, 2:30 PM EST
Rules
[
]
Be kind to one another
No harassment of any kind
We keep things family friendly in this community!
Have fun!
Subscriptions
[
]
Tier 1

[

]
Tier 1 subscription renews monthly at $4.99.
The following lists the benefits of the subscription:
Ad-free viewing on KelseyDangerous's channel (with limited exceptions)
Chat during Subscriber Only mode and not affected by chat slow mode
Watch subscriber streams (access depends on subscription tier)
Instantly unlock your first Sub Badge and show your support
Tier 2

[

]
Tier 2 subscription renews monthly at $4.99.
The following lists the benefits of the subscription:
All Tier 1 benefits
One additional emote: danger36Tea
Tier 2 badge flair
One emote modifier: Horizontal Flip
Tier 3

[

]
Tier 3 subscription renews monthly at $9.99.
The following lists the benefits of the subscription:
All Tier 2 benefits
One additional emote: danger36OMGFACE
Tier 3 badge flair
Two additional emote modifiers: Sunglasses and Thinking
Filmography
[
]
Film
[
]
V • T • E
Year
Title
Role
Note
2013
The Mastery
Woman 1
Short film
2014
Flirt
Taylor
Short film
2014
The Toy Soldiers
Female skater
2014
The Changing Room
Maggie
Short film
2015
The Deep Feint
Mrs. Bradson
Short film
2016
Accidentally Engaged
Wardrobe assistant
2016
All Hallows' Eve
Allison Stone
2017
It Happened One Valentine's
Tamra Jacobs
Cameo in photos
2017
60 Second Murder Spree
Femme Fatale
Short film
Television
[
]
V • T • E
Year
Title
Role
Note(s)
2015
Madden Rivals
Cheerleader
Episode: Madden Face-off Finale
2016
The Suicide Note
Lacey
Television film
2016
Girlfriends of Chrismas Past
Pretty iceskater
Television film
2017
Just Another Nice Guy
Kristin
Mini-series; episode: Part 1
2018
A BuzzFeed Holiday Special: Live!
Self
YouTube livestream
2020
The Sims Spark'd
Self (judge)
Also YouTube series
The Sims 4 LP's
[
]
2017–2020
[
]
V • T • E
Series
Episode(s)
Premiere
Finale
In Control With Kelsey
29
August 24, 2017
November 29, 2020
IRL for 24 Hours
11
December 18, 2018
n/a
100 Baby Challenge LP
84
December 20, 2018
March 27, 2021
100 Baby Challenge spin-offs
23
February 9, 2019
January 12, 2020
Perfect Sim Challenge
12
August 2, 2019
November 15, 2019
Reviewing The Sims 4
10
April 18, 2020
n/a
Every Room Different...
11
April 24, 2020
n/a
2021
[
]
V • T • E
Series
Episode(s)
Premiere
Finale
Killing 100 Sims
3
February 6, 2021
February 27, 2021
Not So Berry Challenge LP
69
April 3, 2021
TBD
Octomom Challenge
2
April 21, 2021
May 12, 2021
Gold Digger Challenge
11
May 5, 2021
December 29, 2021
Not So Berry Challenge: Bonus
17
July 15, 2021
TBD
Rags to Riches Challenge LP
26
July 27, 2021
TBD
100 Bae Challenge
6
September 15, 2021
TBD
Master Vampire Legacy Challenge
10
October 14, 2021
TBD
Sims Unpaused
4
December 23, 2021
n/a
2022
[
]
Trivia
[
]
Kelsey cries over sad videos of dogs more than she cries over sad videos of humans.[5]
Kelsey is a Potterhead. On her vlogs, she said her Hogwarts House is Gryffindor.
In Shane and Ryan Try to Kill the Try Guys, Kelsey said she went to Catholic school.
In Fears Her Evil Son, Kelsey named one of Chelsea's kids "Flynn" because the name suggestion reminded her of Flynn Rider from Disney's Tangled (2010). Incidentally, in September 2019, Kelsey made a cover of I See the Light on YouTube with her friend.[6]
According to Jared Nunn's notes in Nurtures an Alien, Kelsey "was a musical theatre dork."
In Has Triplets, Kelsey said her mom forgot her name and called her "Chelsea" when she was born.
In Has Triplets, Kelsey wanted Kasey's hair to be blonde because she does not want the matriarch to look just like her mom. Consequently, fans had divided opinions on Kasey's hair. Some wanted Kasey's style to be able to be set apart from Chelsea's, while some wanted Kasey to look just like the first matriarch. The backlash in the comments went on for a few weeks because most videos are pre-planned for two to three episodes ahead. Kelsey addressed this on one of her vlogs, saying her, being a split-image of her Sim, is one of the major factors that sets the series apart from other 100 Baby Challenge let's plays. Eventually, Kelsey decided to switch Kasey's hair from time to time, making Kasey the matriarch who underwent the most amount of hairstyle changes. On March 11, 2020, Kelsey came out with a new red hair color. Consequently, Kasey became a redhead for Season 2 as well.
Being part of multiple fandoms, Kelsey is also a Swiftie.

After reaching 22 children, for the cold open of WooHoos an Alien, Kelsey said, "Oh my gosh! I don't know about you, but Chelsea's feeling 22 — children," as a reference to the song 22, the fourth official single of Taylor Swift's fourth studio album Red (2012).

In Starves Her Children, she subtly snuck in two Taylor Swift references. When Tegan aged up, she said "...we are not out of the woods yet..." as a reference to Out of the Woods, the first promotional single off Swift's fifth studio album 1989 (2014). On the other hand, when all her toddlers were angry and starving, she exclaimed, "You need to calm down!" before smirking slightly. Incidentally, this is a reference to You Need to Calm Down, the second official single off Swift's seventh studio album Lover (2019), and Swift's latest single by the time the episode was being filmed.
In Fights in a Wizard Duel, Kelsey made a reference to Look What You Made Me Do, the lead single of Swift's sixth studio album, reputation (2017), saying, "I'm sorry. The old Barbie can't come to the phone right now. Why? 'Cause she's dead!" after Barbie Roberts tried a new outfit.
In Has 2 Birthdays and a Funeral, Kelsey mentioned her favorite author is Neil Geiman.
In her vlog titled, DO I WANT TO BE SINGLE?, Kelsey made a reference to My Type, a song by American rapper Saweetie, singing, "That's my type! That's my type!" after someone asked about her ideal type of person. Kelsey said she likes someone who is communicative, nerdy, and fun.
In Chelsea Goes to University, Kelsey said she was a drama major in college.
In one of Kelsey's Eco Lifestyle streams[7] on Twitch, someone suggested Willow Impiccishmay to become the love interest of the current character, Liam England, to which Kelsey refused because it weirds her out.[8]
The fans have been sharing their own 100 Baby Challenge on Kelsey's Instagram, in which they make the Impiccishmay children either the baby daddies or matriarchs. Kelsey said she not only felt "very proud [of her children], but also very appalled."[8]

In her second Ooblets Twitch stream, one of the subscribers asked her favorite tracks from Swift's eighth studio album folklore (2020). She mentioned mirrorball, august, and betty.
In Seduces Her Doctor, while on a date with Gavin McIntosh, Kelsey asked the fans to call her if there is a real-life Gavin. Incidentally, in August 2020, Kelsey collaborated on a The Sims 4 let's play with internet celebrity Doctor Mike, a real-life Gavin.
In her let's play on the mobile game Episode, after naming her character "Chelsea," Kelsey said "Chelsea" in general is always the name of her alter-ego on which she takes many forms. Additionally, the description of the video implied that the character's full name is "Chelsea Impiccishmay."
Kelsey said Harry Impiccishmay is the child who gave her the most trouble in the series, since he passed away early.[9] Moreover, her favorite pairs of twins are Niya & Natalie and Willow & Ginny while her favorite baby-daddy is Craig Slater.[10] Furthermore, Chelsea is her favorite matriarch. However, she is hoping that by the end of the series, Kelly will be her favorite.[9]

It takes Kelsey about three hours to film one episode — time spent in production setup along with 15 minutes of episode introduction and two hours of game time.[9] Additionally, she records about 10 takes in making the episode introduction.[10]
Kelsey prefers to pick the name suggestions with one or two names at most.[10]
Kelsey prefers Maxis match over alpha CC.[10]
The Sims 3 is Kelsey's least favorite The Sims game not only because "the characters look gross" but also because it could not run on her laptop properly.[10]
Gallery
[
]
Notes and references
[
]
 External links
[
]